3 Important Things to Consider during Your Kitchen Renovation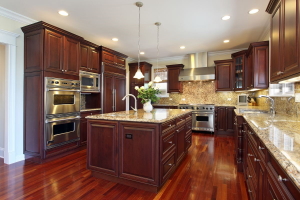 A kitchen remodeling offers an improved cooking environment while also offering significantly increased home value. Of course, you won't enjoy those benefits if you don't take advantage of your New Jersey home's kitchen remodeling. By that, we mean you need to be thoughtful about what you want out of the process so you're able to enjoy all of the benefits that this service offers.
Don't worry: being smart about your kitchen remodeling just boils down to considering three major parts of the process. Just be sure you're going into the project having a concrete idea of what you want regarding these three major kitchen components:
Kitchen Layout
Nothing is as frustrating as a poorly laid-out kitchen. You may struggle to move about efficiently, thus rendering out much of the enjoyment from cooking your meals in such a kitchen. If you're dealing with a poor kitchen layout, take advantage of the remodeling process to have your contractors design a layout that better suits your needs.
Addition of New Plumbing Fixtures
We use water a great deal in the kitchen: to cook, to clean, to do the dishes. Insufficient kitchen plumbing can be a serious problem, then, since you'll struggle to handle the tasks that running water handles. Avoid this problem by considering any plumbing additions you want to make during your kitchen remodeling:
Kitchen island sink
Pasta arm over the stove
Larger kitchen sink
Additional dishwasher
Appliance Upgrades
Few things can add frustration to your cooking quite like shoddy kitchen appliances can. You may have a fridge that doesn't offer enough space for your needs or an oven whose thermostat is so inconsistent that even the simplest roast is a crap shoot in terms of quality. Should such shoddy appliances be the bane of your cooking experience, invest in appliance upgrades to complement your kitchen remodeling.
Let Our New Jersey Team Handle Your Next Kitchen Remodeling Project
Of course, you can be as thoughtful as can be about your kitchen remodeling, but that work won't yield the benefits you want if you don't get it done by an experienced professional. To enjoy that quality of work, look to All County Renovations to handle your next remodeling project. Our remodeling company is number one in the area thanks to our unrivaled quality of work.
Quality is our number-one priority: both quality of workmanship and quality of customer service experience. We strive to provide our customers with the highest quality of work around, and we do so consistently—as our customer reviews page reflects. Our work quality is also reflected in our latest projects gallery, which we encourage you to look through when considering your next project.
If you are looking for kitchen remodeling services in New Jersey, call All County Renovations at 908-688-5025 or complete our online request form.