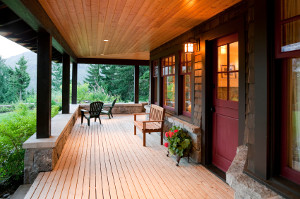 Adding a deck or porch to your New Jersey home can help you create a completely new aesthetic for your home, making it look and feel more comfortable, cozy, or care-free. They can also make your home feel much larger. You should also consider the fact that adding any kind of exterior construction to your home will immediately and significantly raise its resale value.
The New Jersey remodeling contractors at All County Renovations can help you design a construct a new deck or porch for your home that will be an excellent addition to your home. They can make the exterior of your home more accessible and more attractive. Our professionals will custom-design your new New jersey porch or deck and we'll construct them with the highest levels of quality craftsmanship.
New Jersey Porch Design and Construction
One of our specialties is designing and building structures that can withstand wind, rain, hail, and anything else that Mother Nature may have in store for them. When we build a porch for your New jersey home, we'll make sure that it can last as long as possible with as little maintenance as possible.
We'll work with you directly to design your new porch, and we can help you create a screened in porch, open porch, back porch, or front porch. We'll make sure the porch is perfect for your family and your home. We know that there's no one-size-fits-all solution for any home improvement project, so we design every porch that we build to match the home that we're adding it to.
NJ Custom Deck Design
When your hire All County Renovations, our professionals will design a deck that is a perfect fit for your New jersey home, your family, and your lifestyle. We'll work with you directly on the design, offering you our professional advice and opinions, but always leaving the major decisions up to you.
We'll make sure that your new deck is convenient and accessible from inside your home and from your landscape. We can add or replace door if it's necessary for the deck addition, or we can build around your home's current design.
We'll also ensure that the deck is designed and built to match your home's architecture perfectly so that it blends in well with your home's design. We can install a lattice for protection against the wind or cold weather, and we can ensure that your deck provides you with all of the privacy that you need.
New Jersey Custom Deck Construction
After we've designed your New Jersey home's new deck, we'll build and ensure that it's a natural extension of your current architecture and architectural elements. We'll match woods, bricks, paint colors, and other architectural details.
Recent Articles
No matter what the size of your kitchen is, you can always use some help with organization. It's rare that a kitchen that has enough space, and adding a new appliance or set of pots and pans can force you to reorganize the entire room. Between food, dishes, and appliances, there isn't much room to breathe—much less to grow!

---

Renovations designed to help make homes more energy efficient and environmentally friendly have been becoming more and more popular over the last several years, and it's easy to see why. Having a more environmentally friendly home isn't just great for the environment, but it's also safer and healthier for you and your family—plus, it can save you a lot of money on your energy costs.
If you are looking for Decks & Porches services in New Jersey, call All County Renovations at 908-688-5025 or complete our online request form.