Expert Springfield Remodeling Contractors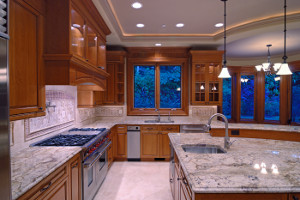 When you're renovating any part of your home, it's very important that you hire a contractor you know you can trust for excellent craftsmanship and professional customer service. At All County Renovations, we understand how important your home is, and how important any renovation project is to your home, so we always strive to provide you with home improvement services that will meet or exceed all of your expectations. No matter how large or small your Springfield remodeling project is, we'll always be ready and eager to complete the job.
Our company is fully licensed and insured, our Springfield remodeling contractors are qualified and experienced, and we have been providing upscale renovation services to homeowners in and around Springfield since 2008. Our team of experts is fully trained to provide a number of excellent services, so no matter what kinds of renovations you need, we'll be able to ensure that our high standards of quality are met. We work directly with every one of our clients to custom design their projects based on their specifications, and we always guarantee your complete satisfaction with our work.
Call us today with any questions you have about our services, or to schedule your appointment, and we'll be looking forward to working with you.
Bathroom Remodeling in Springfield
Your home's bathrooms need to be spaces of tranquility and comfort, but it's not uncommon for a bathroom to turn into little more than a source of frustration to homeowners. Problems with your plumbing fixtures, the ventilation in the room, or even just the design can all make it impossible for your bathroom to be a relaxing part of your home.
Our professional renovation contractors can help you design a bathroom for your Springfield home that is attractive, functional, completely comfortable. We can provide you with any number of upscale amenities, and we can install any flooring, cabinets, or plumbing fixtures you may need. Whether you just want to upgrade a few of your bathroom's features or you're completely rebuilding the space, you can depend on our professionals.
Springfield Kitchen Remodeling
Your kitchen is most likely the room in which you spend the majority of the time you spend in your home. After all, the kitchen is where you cook, snack, have meals, socialize, and it may even be an impromptu home office or homework space for your children, which is why Springfield kitchen remodeling is so popular—and so important. Great kitchen renovations will change the look and feel of your entire Springfield home, and they can significantly raise its resale value.
Our renovation contractors can work with you to custom design a new kitchen that's perfect for you and your family.
Services We Provide in Springfield, NJ
If you are looking for a Springfield remodeling contractor, call All County Renovations at 908-688-5025 or complete our online request form.