Bathroom Tiles Installed by New Jersey Remodeling Experts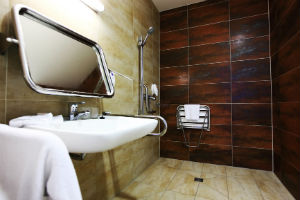 At All County Renovations, LLC, our New Jersey remodeling contractors specialize in bathroom renovation services. Over the last decade, our professionals have developed an exceptional reputation in the local remodeling industry. Our stellar reputation is the direct result of our one simple goal that we focus on in every project. When you hire our experts, we will work our hardest in order to ensure that you are completely satisfied with all of our services.
When you decide to remodel your bathroom, you should consider the versatility and beauty of bathroom tiles in New Jersey. At All County Renovations, LLC, our remodeling contractors have a great deal of experience working with bathroom tiles. These unique building materials are great for any surface and provide the perfect opportunity to customize your bathroom to your specific tastes and needs.
Call our New Jersey remodeling contractors, today if you need to hire a professionally licensed bathroom remodeling contractor in New Jersey. Our courteous and polite staff would be happy to assist you in any way that we can. Our knowledgeable experts can answer any questions that you may have about bathroom tiles or our exceptional remodeling services. We would be excited to schedule your appointment today.
Bathroom Tile Flooring in New Jersey
The most obvious place in which you can use bathroom tiles is for your flooring. Bathroom tile flooring is very popular because of the many benefits that it provides. Bathroom tiles stand up to the heavy wear and tear that your living space is exposed to. Better yet, bathroom tiles can deal with the moist environment and are extremely easy to clean and maintain. When you hire All County Renovations, LLC, you are guaranteed to love your new bathroom tile flooring.
Bathroom Tile Countertops in New Jersey
Because bathroom tiles are so versatile, they can be used for many things other than flooring. At All Count Renovations, LLC, our New Jersey bathroom remodeling contractors specialize in installing bathroom tile countertops. All of the advantages that these materials have are uniquely beneficial in the countertop context. Our remodeling contractors can help you maximize all of the amazing benefits of bathroom tiles.
When we construct a bathroom tile countertop for you, our staff will provide you with a wide range of samples so that you can make the best choice for you and your New Jersey family. Because bathroom tiles come in a wide variety of shapes, sizes, colors, and finishes, you can design a truly unique bathroom tile countertop. With our help, you are guaranteed to love the look that your bathroom tiles provide.
Recent Articles
No matter what the size of your kitchen is, you can always use some help with organization. It's rare that a kitchen that has enough space, and adding a new appliance or set of pots and pans can force you to reorganize the entire room. Between food, dishes, and appliances, there isn't much room to breathe—much less to grow!

---

Renovations designed to help make homes more energy efficient and environmentally friendly have been becoming more and more popular over the last several years, and it's easy to see why. Having a more environmentally friendly home isn't just great for the environment, but it's also safer and healthier for you and your family—plus, it can save you a lot of money on your energy costs.
If you need to hire a professionally licensed remodeling contractor to install bathroom tiles for you in New Jersey, call All County Renovations, LLC, today at 908-688-5025 or complete our online request form.