Bathroom Design Services Conducted by Highly Skilled New Jersey Contractors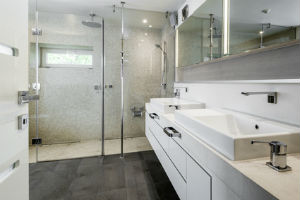 In 2008, All County Renovations, LLC., was formed in order to provide the highest quality remodeling services to New Jersey property owners. Our New Jersey remodeling contractors have the knowledge, skill, and experience necessary to accomplish all of your property improvement goals. We specialize in bathroom remodeling services.
When you hire All County Renovations, LLC., to assist you with a bathroom remodeling project, our professionals will be there to assist you with every phase of your renovation efforts. Our contractors are adept at bathroom design services. As such, there is no limit to what you can accomplish with our help during your bathroom remodeling project.
Call All County Renovations, LLC., today if you need to hire a professionally licensed bathroom remodeling contractor in New Jersey. Our knowledgeable experts would be happy to answer any questions that you may have about your prospective project and our exceptional bathroom design services. Our polite staff can set up your appointment today.
New Jersey Contractors Designing Bathrooms to Your Specific Needs
Because you and your New Jersey family rely on your bathroom each and every day, it is important for you to take the time to customize the living space to your family's specific needs. At All County Renovations, LLC., our New Jersey bathroom design contractors can help you turn your vision of your bathroom into a reality.
When we provide bathroom layout design services, our professionals will provide you with the expert advice that you need to make the most of your renovation project. We will assess the current layout of your bathroom in order to inform you of all the possible bathroom remodeling options available to you. Our team will then customize every aspect of your bathroom remodeling project to your goals. With this approach, you are guaranteed to be completely satisfied with the results of our bathroom design services.
NJ Bathroom Design and Installation Benefits
By hiring a New Jersey remodeling contractor that can assist you with all phases of your project, you ensure that you receive the highest quality results. Because we handle both the design and installation phase of your bathroom remodeling project, our New Jersey professionals prevent you from having to hire multiple contractors for one job. This, in and of itself, save you a great deal of time, hassle, and money.
Better yet, because we handle both the bathroom design phase and remodeling efforts, you are guaranteed to create achieve all of your bathroom remodeling goals. There will be no miscommunication between contractors; rather, our New Jersey bathroom design experts will be working hand-in-hand with you for the duration of the remodeling project.
Recent Articles
No matter what the size of your kitchen is, you can always use some help with organization. It's rare that a kitchen that has enough space, and adding a new appliance or set of pots and pans can force you to reorganize the entire room. Between food, dishes, and appliances, there isn't much room to breathe—much less to grow!

---

Renovations designed to help make homes more energy efficient and environmentally friendly have been becoming more and more popular over the last several years, and it's easy to see why. Having a more environmentally friendly home isn't just great for the environment, but it's also safer and healthier for you and your family—plus, it can save you a lot of money on your energy costs.
If you need to hire a professionally licensed remodeling contractor to provide you with bathroom design services in New Jersey, call All County Renovations, LLC, today at 908-688-5025 or complete our online request form.