New Jersey's Home Remodeling Professionals
Since 2008, All County Renovations has been providing high quality renovation services to homeowners in New Jersey, and we've remained committed to providing quality craftsmanship and superior customer service to all of our clients. Over the years, we've developed a strong reputation in the area by consistently providing renovations that meet or exceed the expectations of our clients.
We work directly with all of our clients to design their home renovations, ensuring that the job is done in accordance with their goals, their budget, and their lifestyles. We understand that while we may be licensed and insured expert renovation professionals, you're the only expert there is when it comes to your home. Our team of New Jersey remodeling contractors consists of architects, carpenters, construction managers, stonemasons, and more, so we'll be able to handle any job you done.
Whether you're replacing windows or doors in your home, installing a new countertop in your kitchen, or completely remodeling your New Jersey home's interior, we'll be ready and eager to tackle the job.
We know how important your home is to you and your family, so when you hire us, we never take our responsibilities lightly. We'll do whatever it takes to ensure that you're completely satisfied with all of the work that we provide.
Bathroom Remodeling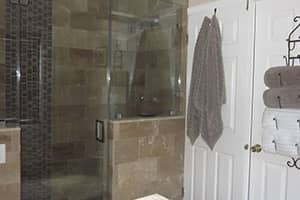 Whether you want to create a full spa-style master bathroom or you'd like to simply update and enhance the features of an older bathroom while keeping some of its charm, our professional renovation contractors can help.
We'll help you design your new bathroom from the ground up, offering our professional advice and opinions while leaving all final decisions up to you. We'll make sure that your bathroom is totally functional, comfortable, and attractive.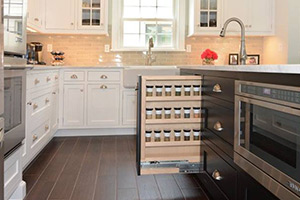 Kitchen Remodeling
Kitchens naturally become the focal centerpiece of most homes. They're used for many different things, from cooking and cleaning to socializing, having a meal, or even as a homework space. That's why it's so important that the kitchen in your New Jersey home is comfortable and attractive.
Our professionals will work closely with you to design kitchen renovations that make your kitchen better for what you use it for most. We can create a fully customized and personalized kitchen that is the perfect addition to your home.
Basement Remodeling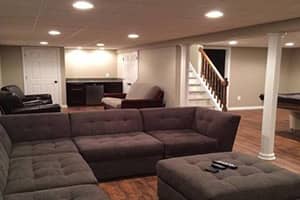 Even if your basement is currently damp, cluttered, and filled with junk, it has more potential than any other part of your home. your New Jersey home's basement can easily become one of the most valued and frequently used parts of your home. Our designers will work with you to create a finished basement that is perfect for your home and your family, and we'll do whatever it takes to make sure that the construction is executed perfectly.
Why Choose All County Renovations for Your Remodeling Needs?
At All County Renovations, we understand how important any work that's performed on your home is to you, your family, and your daily life, so we always strive to provide the absolute best renovation services possible.
We work directly with our clients to design their renovation projects, and we always provide the highest quality construction services possible. We also understand that these types of projects can be an interruption of your daily life, so we work hard to make sure that we're as noninvasive as possible. We'll keep our work space clean and safe so that your life can be kept as normal as possible, and we'll always complete the work as quickly as possible without sacrificing quality workmanship in favor of a speedy job.
Before we consider any renovations of your New Jersey home complete, we'll make sure that you're completely satisfied with the final product. Our only goal is to help our clients by improving their homes, so your satisfaction is extremely important to us.
We look forward to adding you to a long list of satisfied customers.
Our New Jersey Services Include:
Recent Articles
A kitchen remodeling offers an improved cooking environment while also offering significantly increased home value. Of course, you won't enjoy those benefits if you don't take advantage of your New Jersey home's kitchen remodeling.

---

No matter what the size of your kitchen is, you can always use some help with organization. It's rare that a kitchen that has enough space, and adding a new appliance or set of pots and pans can force you to reorganize the entire room. Between food, dishes, and appliances, there isn't much room to breathe—much less to grow!

---
If you are looking for a New Jersey Remodeling Contractor then please call 908-688-5025 or complete our online request form.