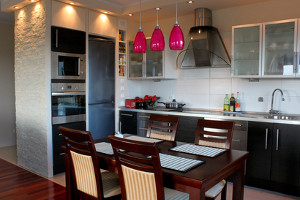 Most homeowners end up spending the majority of their time at home in the kitchen. Your kitchen is where you eat, prepare meals, socialize over drinks or coffee, and—of course—it's where you do a good portion of your home cleaning. Because of that, your kitchen becomes a natural focal point of your New Jersey home, and remodeling your New jersey kitchen is a great way to change the atmosphere of your entire home and the way you use your home every day.
At All County Renovations, we know how important it is that your kitchen is attractive, comfortable, and easy to keep clean and organized, so when we're hired to work on a kitchen renovation project, we'll make sure that you're getting the best in quality craftsmanship and professional customer service. Our team of professional renovation contractors will work with you directly to design your new kitchen, and we'll make sure the construction is done perfectly.
We know how important your kitchen is to your home, and we'll help you transform it into the perfect space for your family.
Our NJ Kitchen Remodeling Professionals
All of the New Jersey remodeling contractors at All County Renovations are licensed, professionally trained, and extensively experienced. We've been providing New Jersey homeowners with excellent remodeling and renovation services since 2008, and we've remained dedicated to making sure that each of our clients receives the absolute highest quality craftsmanship at every job.
We'll design your new kitchen with you so that we can guarantee it's the perfect new space for you and your family. We'll give you our professional opinions and advice, but we'll also welcome and encourage any of your input. After all, we may be remodeling experts, but you're the only expert there is when it comes to your home.
New Jersey Kitchen Design Services
At All County Renovations, we value the input you give us during the design stage of your kitchen remodeling project. Our professionals work directly with all of our clients to design a project that they'll be satisfied with:
We welcome and encourage input from you during the design of the project. When it comes to designing a kitchen that you'll be satisfied with, you're our most valuable resource.

We'll help you decide what exactly you'd like to achieve with this project, and then we'll find the best ways to accomplish that.

A successful kitchen remodel depends on three factors: quality of work, time, and cost. Our professionals will help you find a balance between those three factors.
Your kitchen needs to be an attractive, comfortable, and easy to organize part of your New Jersey home, and our professionals will help you make sure that's the case.
Recent Articles
When it comes to improving the value of your New Jersey home, it can be difficult to determine what kind of project is going to give you the most bang for your buck while still increasing your home's overall functionality.

---

No matter what the size of your kitchen is, you can always use some help with organization. It's rare that a kitchen that has enough space, and adding a new appliance or set of pots and pans can force you to reorganize the entire room. Between food, dishes, and appliances, there isn't much room to breathe—much less to grow!

---

Renovations designed to help make homes more energy efficient and environmentally friendly have been becoming more and more popular over the last several years, and it's easy to see why. Having a more environmentally friendly home isn't just great for the environment, but it's also safer and healthier for you and your family—plus, it can save you a lot of money on your energy costs.
If you are looking for Kitchen Remodeling services in New Jersey, call All County Renovations at 908-688-5025 or complete our online request form.