4 Kitchen Remodeling Ideas To Increase your Home's Value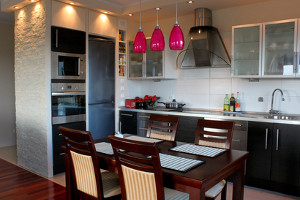 When it comes to improving the value of your New Jersey home, it can be difficult to determine what kind of project is going to give you the most bang for your buck while still increasing your home's overall functionality. Home improvement and remodeling projects are never exactly cheap, so whatever project you decide to go with, you want to be sure it's the kind of project that's going to net you a great deal of additional value for your home. When you're looking for a remodeling project that provides an excellent return on investment, both in terms of value and function, kitchen remodeling is right there at the top of the list, but it's important to make the right remodeling choices in order to add the most value to your home. To help you in that regard, our team of skilled remodeling contractors have taken the time to put together this short list containing a few kitchen remodeling ideas that can net you the most in additional value for your home.
High-End Appliances
The right appliances can make or break a kitchen space, and high-end appliances, in general, can make your kitchen feel more finished and luxurious than you might realize. In addition to the added value and function they bring to your kitchen space, they can also be a major selling point if you're looking at listing your home anytime in the near future, as many potential homebuyers are quite willing to pay a bit extra if it means they don't have to go appliance shopping after moving in. Whether it's a new range, refrigerator, cooktop, or any other utilitarian device you think could benefit your kitchen, you really can't go wrong.
Neutral Colors
While it might sound like a remarkably simple thing to do, simply changing the color palette of your kitchen to a more neutral tone might be the single biggest return on investment you will see during a kitchen remodel. Neutral color tones are all the rage these days thanks in large part to their design versatility, and while they might sound boring, they are often anything but. A neutral backdrop is also highly effective in helping to highlight the beauty of your kitchen countertops, appliances, and your dishware, and can often be changed much easier at a later date than more bold color choices.
Chef's Kitchen
These days, there are more amateur chefs and foodies out there than ever before, and whether it's due to the sheer volume of cooking shows out there or something else, it's helped make chef's kitchens a remarkably desirable kitchen remodeling option. Gas stoves, double ovens, as well as a number of other high-end cooking appliances are becoming extremely sought-after upgrades among potential renters and buyers alike, and by making the choice to upgrade your old kitchen into a fully-functioning chef's kitchen, you could give your home just what it needs to stand out from all the rest.
Extend Your Space
When it comes to selling your home, most potential buyers are going to be looking for a home with a larger kitchen space, and having one can often mean the difference between settling for the offer you get, or getting the asking price or above. Because of this, extending your kitchen space is definitely an option worth considering when looking at kitchen remodeling ideas. Not only does this help to increase the square footage of your home, but it adds a great deal of functionality to your kitchen as well.
If you are looking for kitchen remodeling services in New Jersey, call All County Renovations at 908-688-5025 or complete our online request form.