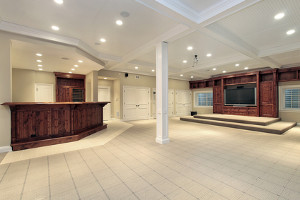 Basements have more potential than any other part of your New Jersey home, but they're also easier to overlook than any other part of your home. However, even if your basements is damp, dirty, and filled with clutter, it has the promise to become one of the most valued and frequently used spaces in your home.
The professional New Jersey remodeling contractors at All County Renovations can help you transform your basement into a part of your home that you and your family love to spend time in. A remodeled or finished basement in can immediately increase the resale value of your home, and it won't cost nearly as much as a room addition would.
New Jersey Basement Finishing Design
Before you begin your New jersey basement finishing project, it's important to make sure that you have a clear design and layout in order for the project to be successful. Before any of the work begins, you'll want to have the layout and design decided on, and here are a few of the things you'll want to consider:
Lighting

The lighting, both natural and electric, of any space you're designing effects the way that it will be used and how comfortable it can be. So, for instance, you'll want to leave the television area away from any natural light sources, but keep any more social areas closer to natural light.

Layout

Planning the layout of your finished basement before you begin any construction will help you get the most satisfaction out of the space once it's complete.

If you plan to include a food storage area, put it in an area that people won't have to walk in front of the television area to get to.
If you're adding a bedroom, keep that space nearer to the perimeter of the basement so that it's close to any window egresses.
Carefully planning out as much of the project as you can before you begin your work will make a huge difference in how smoothly the project goes once construction begins. Our professional renovation contractors will help you design your basement, and we'll work with you directly so that we can be sure that your getting everything you need out of our services.
Troubleshooting Problems
There are any number of things that could go wrong during your basement finishing project. They could bring construction to a halt, and they could break your budget. However, our professionals will do everything we can to find these problems before the work begins and take care of them.
We'll begin every basement finishing project with an inspection of the space, during which we will:
Look for any excessive moisture
Make sure that your foundation is properly sealed
Check your flooring for any damage
Make sure that any fuel burning equipment is safe for use and up to local codes and guidelines
If we do come across any problems, we'll discuss them with you before completing any repairs.
Recent Articles
No matter what the size of your kitchen is, you can always use some help with organization. It's rare that a kitchen that has enough space, and adding a new appliance or set of pots and pans can force you to reorganize the entire room. Between food, dishes, and appliances, there isn't much room to breathe—much less to grow!

---

Renovations designed to help make homes more energy efficient and environmentally friendly have been becoming more and more popular over the last several years, and it's easy to see why. Having a more environmentally friendly home isn't just great for the environment, but it's also safer and healthier for you and your family—plus, it can save you a lot of money on your energy costs.
---
If you are looking for Basement Remodeling services in New Jersey, call All County Renovations at 908-688-5025 or complete our online request form.