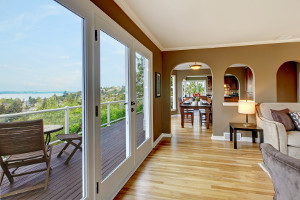 Your home needs to be a comfortable and attractive place, and details like your flooring are a hugely important part of that. Flooring can completely transform the look and feel of any room, and if you're looking to replace your flooring, you can depend on the professional New Jersey remodeling contractors atAll County Renovations for quality flooring and quality work. We'll help you select the perfect flooring for your New Jersey home, and we can make sure that it's promptly and professionally installed.
Whether you need New jersey flooring replaced, new flooring installed, or refinishing and repair services for your current flooring, our professionals can provide you with the highest quality flooring services possible. We'll work with you directly to select your new flooring and design your flooring renovations, and we'll do whatever it takes to guarantee your complete satisfaction with our work.
Our experts are all licensed and insured, professionally trained, and extensively experienced. no matter what services you need for your flooring, we'll be able to handle the job quickly, accurately, and thoroughly. We'll make sure that your flooring always looks its best and is in great condition.
New Jersey Hardwood Flooring Installation
Hardwood floors can make your home a much more comfortable place, and they can be extremely attractive. And when you rely on our professionals, we can guarantee that your flooring will be installed extremely well. We'll make sure that your New Jersey home's hardwood floors are durable and attractive, and they'll last for years to come.
The specific hardwood flooring installation services we provide include:
Glue down hardwood flooring installation
Glue down pre-finished hardwood flooring installation
Nail down hardwood flooring installation
Nail down pre-finished hardwood flooring installation
The Benefits of NJ Hardwood Flooring Include:
They're easy to clean. With nothing more than a broom and mop, you can thoroughly clean hardwood floors, though you do need to work to keep them dry.
Hardwood floors have an elegant appearance. They offer warmth and beauty, and they never go out of style.
Hardwood floors are a great investment. They can increase your home's resale value, and they're a great selling point.
New Jersey Hardwood Flooring Refinishing and Repairs
Over the years, hardwood flooring will lose its polish, especially in high traffic areas, and keeping it looking great can be a difficult task. If you've started to notice your New Jersey home's flooring is looking lackluster, call our renovation contractors for restoration services.
A proper finish can help your hardwood flooring looks its best at all times, The finishes we provide include:
Shellac
Polyurethane
Lacquer
Varnish
We'll help you decide which of these wood be best for your wood flooring, and we can help you determine whether you need to have your floors stained.
Recent Articles
No matter what the size of your kitchen is, you can always use some help with organization. It's rare that a kitchen that has enough space, and adding a new appliance or set of pots and pans can force you to reorganize the entire room. Between food, dishes, and appliances, there isn't much room to breathe—much less to grow!

---

Renovations designed to help make homes more energy efficient and environmentally friendly have been becoming more and more popular over the last several years, and it's easy to see why. Having a more environmentally friendly home isn't just great for the environment, but it's also safer and healthier for you and your family—plus, it can save you a lot of money on your energy costs.
If you are looking for Flooring services in New Jersey, call All County Renovations at 908-688-5025 or complete our online request form.