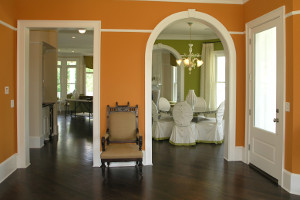 Your home is an extremely important part of the lives of you and your family, and you need it to be an attractive, comfortable, and functional space. Our custom trim and custom New Jersey built-in renovation services are designed to help you create the perfect home. The built-ins and trim that we install will be custom-designed for your home, your tastes, and your decor.
At All County Renovations, our professional New Jersey remodeling contractors are all licensed and insured, and we have the qualifications and experience to guarantee your satisfaction with all of our work. We'll work with you directly to design any trim or built-ins that you're having installed in your home, and we'll make sure that they're a perfect addition to your New Jersey home.
Custom Trim
Well designed and installed trim work can add character to any room, and it's the foundation of any beautifully designed and decorated room. And when you work with us to design custom trim for your home, we'll help you turn your visions into a reality. Whether your new trim is minimalist, traditional, or contemporary, we can help you ensure that the trim is consistent with the rest of the interior design throughout your New Jersey home.
Our custom trim will be designed specifically for your home, and it can be customized to have any appearance that you choose. We specialize in exterior and interior trim, and we can make sure the new trim you're having installed helps you transform your home into a more comfortable and attractive space.
Custom New Jersey Built-Ins
Our custom built-ins are a fantastic way to add a great deal of functionality to your New Jersey home's interior design while also increasing its aesthetic value. Our built-ins are custom designed by our professional renovation contractors, who will work closely with you throughout the design process to help you ensure that the project turns out perfectly. We know that these changes are very important tour home and your life, so we'll make sure that you're totally satisfied with the work that we provide.
Our custom built-ins can reduce clutter in your home and open up your living spaces to make them more comfortable, attractive, and functional. Some popular custom built-in projects include:
Kitchen Islands
Home Entertainment Systems
Library Built-Ins and Book Shelves
Bedroom Storage
Bathroom Vanity
Storage Cabinets
Our professionals have the versatility of skills necessary to design and build your new built-ins to your exact specifications. We've been providing our renovation services to homeowners in New Jersey since 2008, and we look forward to adding you to a long list of satisfied customers.
Recent Articles
No matter what the size of your kitchen is, you can always use some help with organization. It's rare that a kitchen that has enough space, and adding a new appliance or set of pots and pans can force you to reorganize the entire room. Between food, dishes, and appliances, there isn't much room to breathe—much less to grow!

---

Renovations designed to help make homes more energy efficient and environmentally friendly have been becoming more and more popular over the last several years, and it's easy to see why. Having a more environmentally friendly home isn't just great for the environment, but it's also safer and healthier for you and your family—plus, it can save you a lot of money on your energy costs.
If you are looking for Trim & Built Ins services in New Jersey, call All County Renovations at 908-688-5025 or complete our online request form.