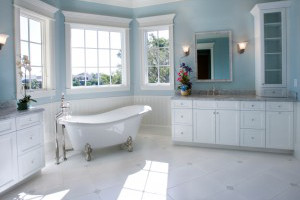 Home improvement is always a great investment. Remodeling or adding to your home can significantly raise its resale value, and it doesn't have to have a high cost to yield a great reward.
You don't need to spend more than you can afford to remodel your bathroom. The New Jersey remodeling contractors at All County Renovations can help you get the most out of your remodeling budget.
if you're looking for a bathroom remodeling project that will improve you New Jersey home but you don't have several thousands of dollars to sink into the project, don't worry. Especially with small remodels, you don't necessarily have to break the bank to see some tremendous improvements.
Here are a few tips to help improve your bathroom without going all in:
Ask What You Can—And Should—Spend
On average, an upscale bathroom remodel costs about $26,000. Of course, the actual amount that individual homeowners pay can vary greatly. The amount that you're willing or able to spend depends largely on your financial circumstances, your home's location, and your family's lifestyle. You should take an honest look at your finances and determine a realistic limit for your budget.
Also think about how much longer you plan to live in your New Jersey home. if it's five years or less, your chief consideration should be the return-on-investment you'll get from this project. If you plan on staying in your home for more than five years, you'll want to focus your efforts on creating a comfortable and enjoyable living space for your family.
Cut Costs on Your Bathroom Remodel Wherever You Can
If you're working with a smaller budget, figure out what essentials your project needs, and see ow much more room you have for any more add-­ons. This may mean sacrificing a luxurious new sink to make sure that the flooring is adequate, but in the end, the essential features are what you'll value most.
When you're planning the design of your bathroom remodel, don't forget to account for labor costs. Usually, this will end up being about 1⁄3 of your costs for the entire project. If you need to cut costs, start with any amenities that would be nice, but aren't necessary.
Leave Room For Unexpected Expenses
Especially if you're remodeling an older bathroom in New Jersey, you'll want to leave plenty of room in your budget for any unexpected problems. Once you've gotten ready to install flooring or new plumbing fixtures, you might start to find some budget-busting plumbing problems in your New Jersey home that you had no idea about. Make sure that you leave yourself plenty of wiggle room, or you could get into some real trouble.
Our New Jersey bathroom remodeling contractors recommend you have around 10% of your budget reserved for unexpected problems. And if at the end of the job you haven't had to spend it, you can look at adding on a few of the more luxurious features that you cut out over budget concerns in the beginning.
If you're looking for bathroom remodeling contractor in New Jersey, call All County Renovations at 908-688-5025 or complete our online request form.