Kitchen Design For Your New Jersey Renovation Project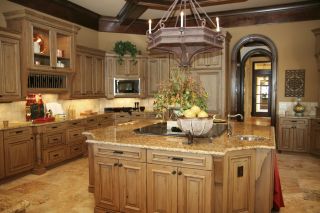 If you're planning on renovating or remodeling your kitchen in New Jersey, you can have a great Design services as part of your design and build process with our New Jersey Remodeling Contractors. We help all our customers to design the perfect spaces that fulfill all their remodeling needs. A great construction project always starts with a perfect kitchen design, and that's what you'll have when you allow us to work with you on your kitchen projects!
First Rate NJ Kitchen Designs
When it comes to getting the best kitchen in New Jersey, you'll want to be sure you're getting the best advice in the area from a professional design consultant. Your design consultant will bring in all elements of your style, integrating everything you want for your new kitchen space. A first rate kitchen design can be yours when you go with our experienced, professional design team here at All County Renovations!
Custom New Jersey Kitchen Designs
Any time you're looking for a custom kitchen, you'll want designs that are unique and completely you. For that, it takes a design that includes your personality and everything you like and don't like. Your home's kitchen should be an area that's especially suited for the cooks in the family while pleasing all occupants in the home at the same time. You need beauty as well as function with your kitchen design for your New Jersey area home.
Finding out what you and your family members are all about takes some time and often a little digging by our design consultants. But with our experience, we make the design process very enjoyable, making sure we ask plenty of questions and listen to all you have to say. There's no limit to what we can design for your new kitchen space, so be ready to have the kitchen of your dreams.
Why All County Renovations Is Top Choice For NJ Kitchen Designs
Many homeowners find that when they want to make changes to their homes, they're just not sure how to begin or how to handle the process. Many fear having to be in charge of the project, worrying about how to ensure contractors show up and do the work they're supposed to.
With a professional construction design and build company like ours at All County Renovations, all of this is managed and handled for you. We begin your project with a professional design consultation that incorporates what you want and need into your new kitchen.
We'll then manage the contractors, handle permits, and make sure the projects are all done right during every phase. You'll have all the help you need and as much or as little advice as you want. Call All County Renovations for the best kitchen design consultants in New Jersey!
If you are looking for Kitchen Design services for your New Jersey Kitchen Remodeling, please call 908-688-5025 or fill out our online request form.