Kitchen Countertops For New Jersey Homes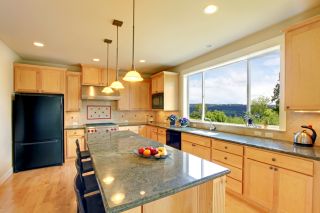 The countertops in your New Jersey Home will make up a major portion of your kitchen area and should be complimentary to your new kitchen design. Getting the right countertops that go well with the rest of your kitchen areas can be a challenge, especially because there are so many different options in colors, textures, patterns, and materials out there. In fact, there are thousands of options in granite alone, with each piece completely unique from the next in pattern.
With our New Jersey Remodeling Contractors, we make the choosing of your kitchen countertops easier for you with our design consultation where we help you plan out what type and style of countertops will look best and perform as you need them to. Your New Jersey countertops need to be as functional as they are beautiful!
Quality New Jersey Countertops Customized For You
Having custom touches to your kitchen countertops will bring in a uniqueness to the kitchen area. Custom edges can be created for natural stone options like granite or marble. Or if you're into quartz, composites, glass, stainless steel, concrete, or other special materials, we can help you get what you want in great looking countertops.
You can have great looking special features added to your countertops like areas for a small indoor herb garden, special functional features for an indoor grill area, and so much more. Countertops that are customized can be cut to fit any spaces any way they need to be.
New NJ Kitchen Countertops Installations
Whether you choose to stick with standard options in laminates or other higher end materials or you choose customized kitchen countertops, you'll have perfect installations done by our professional installers at All County Renovations here in the New Jersey area. Your new kitchen countertops will look amazing in your home!
Why All County Renovations Is #1 For New Jersey Kitchen Countertops
When you have a design and build remodeling company working for you, you have the best of all worlds during your kitchen project. You'll have the best options in kitchen countertops and top quality installations. We work with our customers closely to determine their style tastes and work hard to incorporate everything they need into the plan. Your kitchen countertops will look stunning and go great with the rest of your home.
All County Renovations has been helping customers with countertops for years here in the New Jersey area. Our experienced staff and contractors are always available any time you have a concern or questions during your projects.
We manage your kitchen countertop installations and help you choose just the right type of material for your aesthetic and functional needs. When you want to find the best countertops in New Jersey and have them look the best they can, you can count on the experts at All County Renovations!
If you are looking for Kitchen Countertops for your New Jersey Kitchen Remodeling, please call 908-688-5025 or fill out our online request form.