Kitchen Cabinets For New Jersey Homes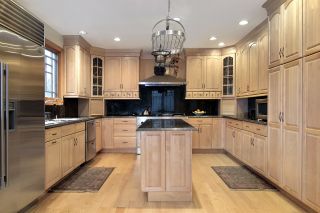 If you're wanting to make changes to your New Jersey kitchen, one of the best items to start thinking about upgrading is the kitchen cabinets. Your kitchen cabinets make a huge impact on how your kitchen looks because they are one of the largest areas being covered by similar materials. Kitchen cabinets draw the eye and can make the style statement of the kitchen.
For instance, just the color of the cabinetry alone takes up much of the space in a kitchen. If you have cabinets in the kitchen that are similar in color to the flooring, the entire space tends to blend in, but have contrasting colors and bang! -the cabinets pop into focus every time you look toward the kitchen.
That means that if mistakes are made in the style or materials of the cabinets, it can mean the difference between success and failure for a great looking space. So choose your kitchen cabinets wisely and let our design consultants guide you some during your renovation or remodeling projects.
Quality New Jersey Cabinets Customized For You
Whatever options in cabinet materials you choose, the cabinetry itself can be customized to suit your functional needs. The molding and styling of the cabinetry can be custom made as well so you have a completely custom experience with your kitchen cabinets.
When customized, cabinets give you the space you want where you need it. You can have shelving and custom space differences between the shelving. You can have ornate molding created just for your special kitchen cabinets. Custom glass options can be installed in your kitchen cabinets. Custom finishes can be applied to make them unique and beautiful. Our New Jersey Remodeling team can help you get the custom cabinet options you want.
New Jersey Kitchen Cabinet Installations
If you're wanting a new kitchen for a new home or are adding on a kitchen area to your existing home, you'll want kitchen cabinet installations that are perfectly done. The last thing you'll be looking for are kitchen cabinets that are off center, not level, or are hastily installed with gaps that show or allow crawly creatures in. With quality cabinet installations, you have kitchen cabinets that look great, function perfectly, and are well secured and sealed to your walls.
Why All County Renovations Is #1 For New Jersey Kitchen Cabinets
When you think of All County Renovations Kitchen Cabinets, think high-quality made custom cabinets and top quality installations. We serve you with professionals who have been in the home improvement business for years giving customers high quality workmanship in all we do. When you expect beautiful cabinets that look stunning in your home, you'll find them when you choose to work with our team at All County Renovations!
If you are looking for Kitchen Cabinets for your New Jersey Kitchen Remodeling, please call 908-688-5025 or fill out our online request form.